Thanks for "walking the walk" with us!
Please put your contribution in the chip-in here. Paypal and credit card accepted. We recommend a $10 individual contribution for this benefit, or $25 a family. If you can donate more, Anthony needs it, so I thank you! If less, trust me that we appreciate every dollar. This chip-in goes directly to his fund at Reece's Rainbow, a 501c3 organization. Please put "Anthony (25)" in the special instructions line, if you can.
(For some reason, the chip-in widget isn't updating the accumulated donations total on all computers.
But I know it works,
and you will receive a receipt from both PayPal and Chip-in that verifies your money went to the right place!)
Want a t-shirt
? We ask you to buy them ahead. A little over a dollar per shirt will go to Tori's account at Reece's Rainbow: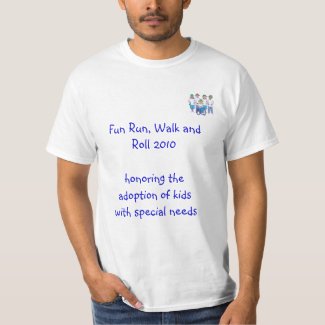 Fun Run, Walk and Roll 2010
by
IronicCatholic
View more
Adoption T-Shirts
Also, there are great
Reece's rainbow shirts for sale at Cafe Press
, and profits go to the RR Voice of Hope fund for daily expenses.
I also love these shirts a woman adopting a child with Down Syndrome made as a fundraiser: I have a dream that one day we will be judged based on the content of our character, not the number of our chromosomes. Available for purchase
here
.
Thanks everyone!
Anyone who wants to help
with this benefit, please contact me and I'd be happy to give you things to do (run kids' games, do the coffee, get donations for kiddie trinkets, set up, clean up, etc.). We can also use donations to help the benefit go smoothly--disposable coffee cups, coffee, hot chocolate, trinkets for kids' games, gift certificates for door prizes...).